Jewellery Scrap
Visit Presman's 'trade only' scrap buying counter in Hatton Garden and talk to our knowledgeable and helpful team who are always happy to advise you. Alternatively, send us your gold and platinum scrap and bench lemel, in our fully insured FREEPOST envelopes.
At Presman we use traditional acid testing, alongside the latest XRF technology, to quickly and accurately assess the value of your scrap. Same day payments via bank transfer, cash or cheque. Presman also offer a fast melt and assay service for mixed scrap and bench lemel.
Scrap Prices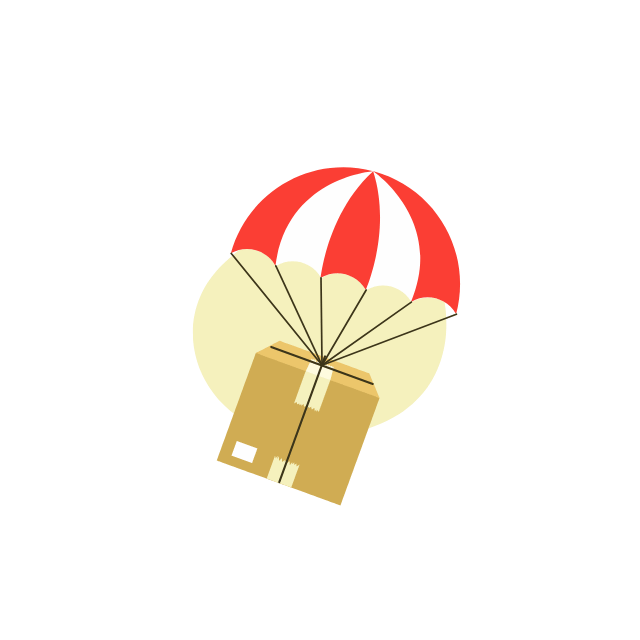 Free-post Envelope Service
You can send us your precious metal scrap, coins and bench lemel in our fully insured, free-post envelopes. Our Freepost envelopes are guaranteed next day delivery and are insured up to the value of £2500. The Freepost service is for gold, platinum or palladium scrap with a minimum value of £750 per envelope. 
Your package will be assessed and settled on the day of receipt by our skilled trade counter staff, with payment based on that morning's fix.
Payment can be made by either same day bank transfer, cash or cheque and we will email you a PDF copy of your invoice.
Order Free-post envelope
Download Packing List
Learn your Hallmarks
Learn the basics of the 4 precious metals and their UK hallmarks.
Buyers Beware Guide
This scrap buyers beware guide contains the latest information on precious metal fakes and forgeries being offered to the UK jewellery and pawn broking trades.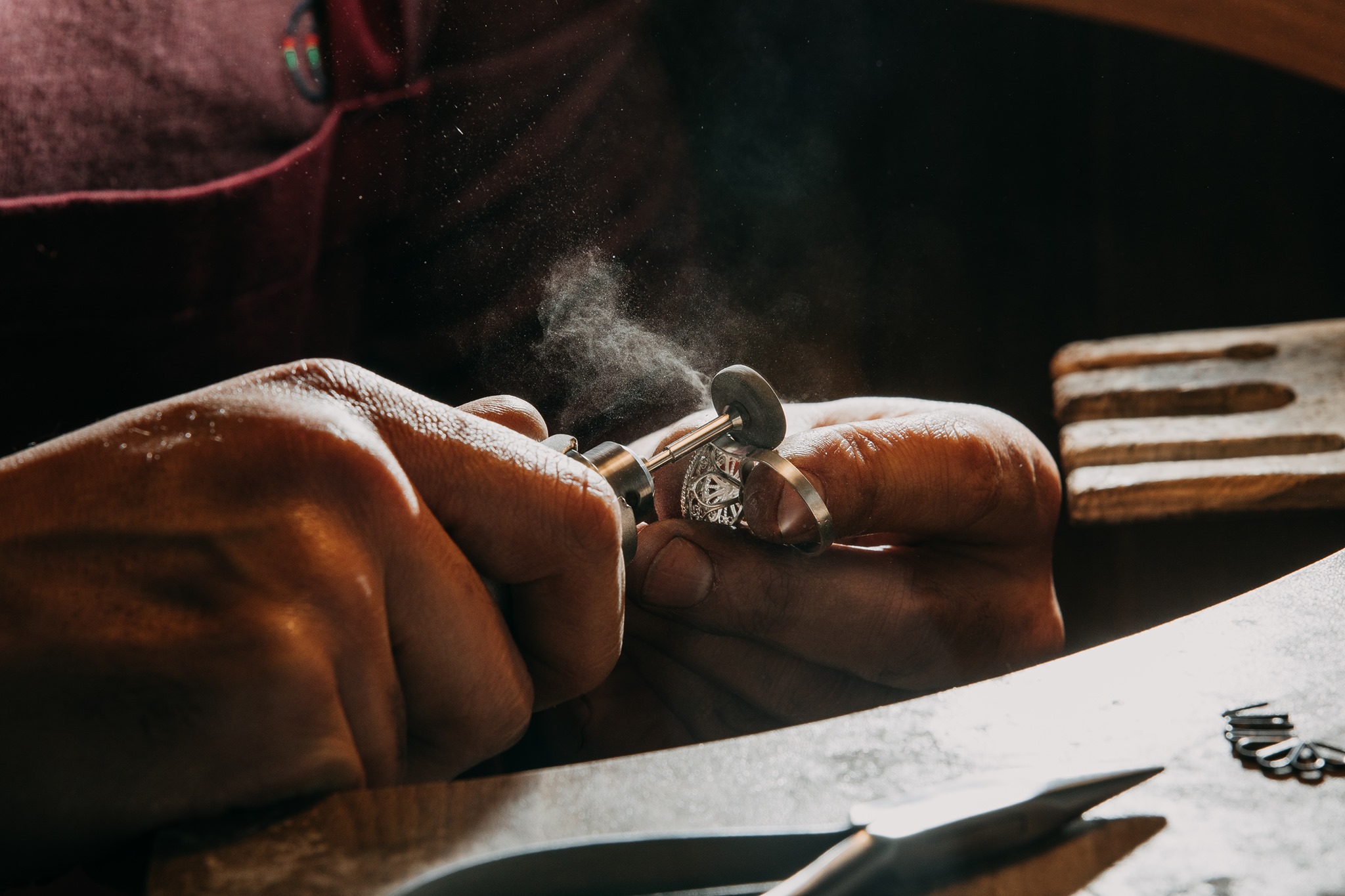 Jewellery Workshop Reclamation
Our in house processing and onsite assay laboratory, enables us to pay you much faster for your workshop waste. Our knowledgeable and experienced team of reclamation experts are committed to delivering the maximum returns for you, every time.
We are ISO accredited, which signifies that our processes and procedures are externally monitored to ensure that you always get consistently good service. We welcome you to come and watch your scrap or bench lemel being melted.
Free Reclamation Seminar
We offer a free 30 minute reclamation talk to jewellery schools, colleges and groups, where they learn the secrets of making money from the 'rubbish' in your jewellery workshop. Our talks are designed for the practical jeweller sitting at the bench, or any jewellery producers using precious metals.
Are you interested in hosting one of our free 30 minute makeover seminars?
🗓️ Book Here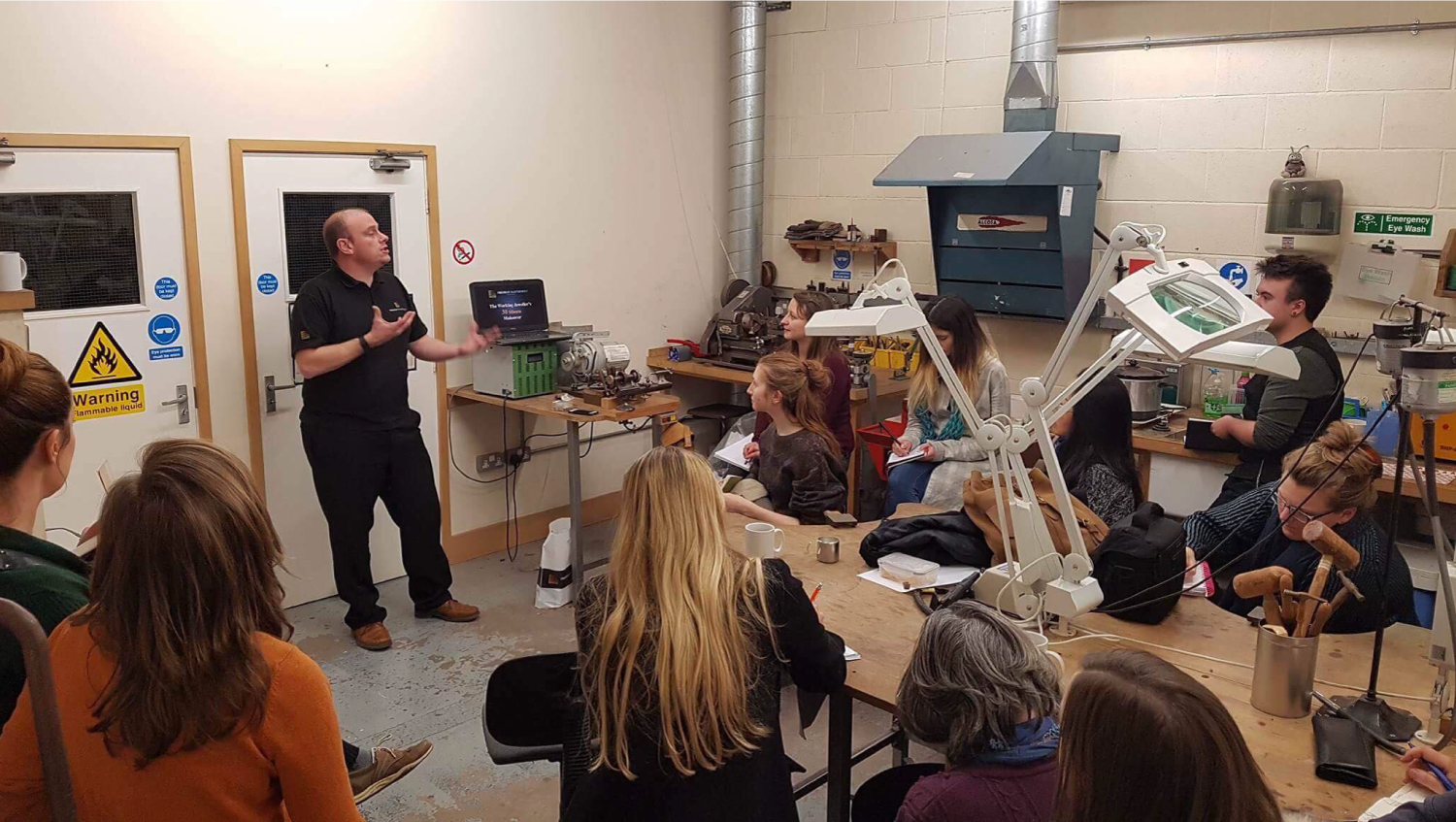 Workshop Reclamation Advice
Learn how to make and reclaim money from your used workshop materials.
Diamond Recovery
We can reclaim your diamonds which are set in gold, platinum and palladium Jewellery.
What our customers say about is...
Mastermelt aren't a household name like Cartier, but like us, they have the same high level of customer service. They also have an enviable quality and environmental approach to their business. We are delighted with the long partnership we have developed and continue to enjoy expert and transparent reclamation
Since moving our business to Mastermelt some years ago our returns have been so much better. Because they are interested in helping us improve our business, we have even seen additional benefits from following their reclamation advice. Mastermelt has always given us a first class service and they are a pleasure to deal with, especially Jerry, who really looks after us.
I have never looked back since we started using Mastermelt to process our filings and just wonder why I hadn't done it sooner. The friendly team provide a service that is clearly documented, fairly priced and amazingly speedy – receiving, processing and paying out on our filings in just 1 week! A real lifesaver when juggling cash-flow some months. Big thanks to Jerry and the team.
I have been in the Jewellery trade for over 50 years and I would say out of all the bullion dealers I have used during these years (and I have used many) you are the most professional and transparent and returned the best results from my sweep. I will continue to tell fellow jewellers how much I rate the entire service I received from you starting with Jerry right the way through to the final result and payment.
My 1st sweep I had done by Mastermelt, I was totally blown away. I can recommend Mark and his team for giving me the best service I've had (I've been at the bench since 1972!) in the trade.
I have been using Mastermelt since starting out on my own because they provide a fast, efficient and friendly service every time. They are competitive and payment is always very fast. I wouldn't look at using any other company to recycle my precious metals.
We have been dealing with the team at Mastermelt for nearly 20 years and they are a brilliant bunch. We know what we're doing but sometimes we get even more than we were expecting, which is why we trust them and wouldn't go anywhere else.
Thank you very much for your continued good service, of which I have found the best in my 50 years in the jewellery trade both in the UK and overseas.
Mastermelt are a company we trust 100% to recover our precious metals and always recommend to others as a professional company who offer a personal, prompt service.
Thank you once again for awesome customer service. A delight to deal with you!
astermelts are always friendly and easy to deal with. I have used Mastermelt for scrap, sweep and lemel. The process and turnaround is quick also. Thank you very much!
From the moment I checked in my work to the day we finalised the job it's been a slick professional operation that all along has left me feeling nothing but secure.
We have used Mastermelts for many years now. From scrap, sweeps, lemels and assay to metal recovery when moving premises, we have always had a great service
I have been doing business with Mastermelt since they started over 30 years ago and have always been impressed by their ethics and high standards. They are always working to improve their business and have encouraged me to do the same. The whole team at Mastermelt are incredibly supportive of me and my business and have given me great advice along the way. They are a great company to do business with because they really do care about their customers.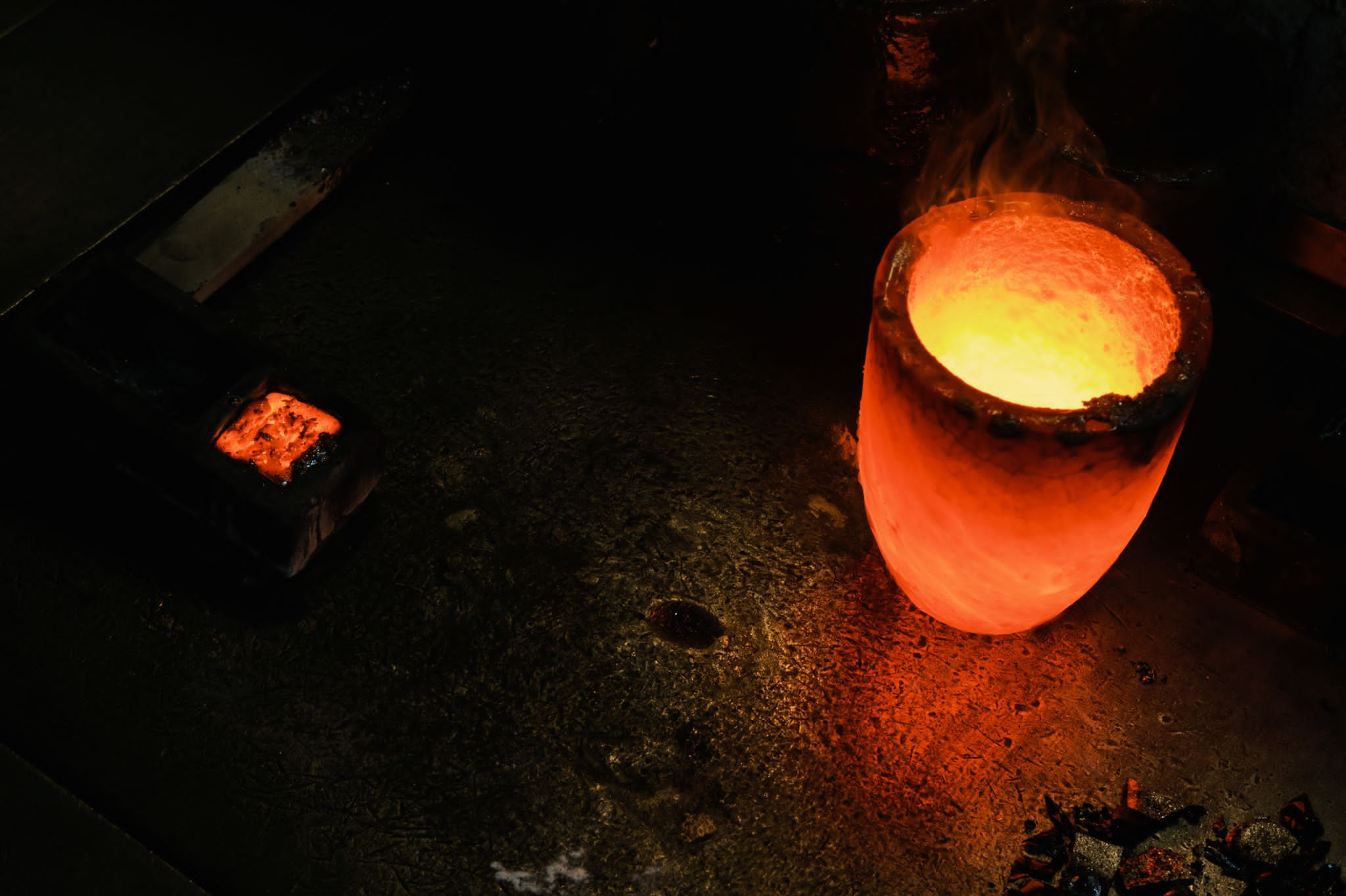 Reclamation Services
All jewellery workshop discards processed, including Lemel, Sweeps, Polishings, Extraction, Filtration and most types of flooring.
Supply, fit and process extraction bags.
Supply, empty and process waste from settlement tanks.
Workshop clean-up service.
Plating Solutions.
Diamond reclamation.
Dental.
🗓️ Book a collection
👤 Meet the team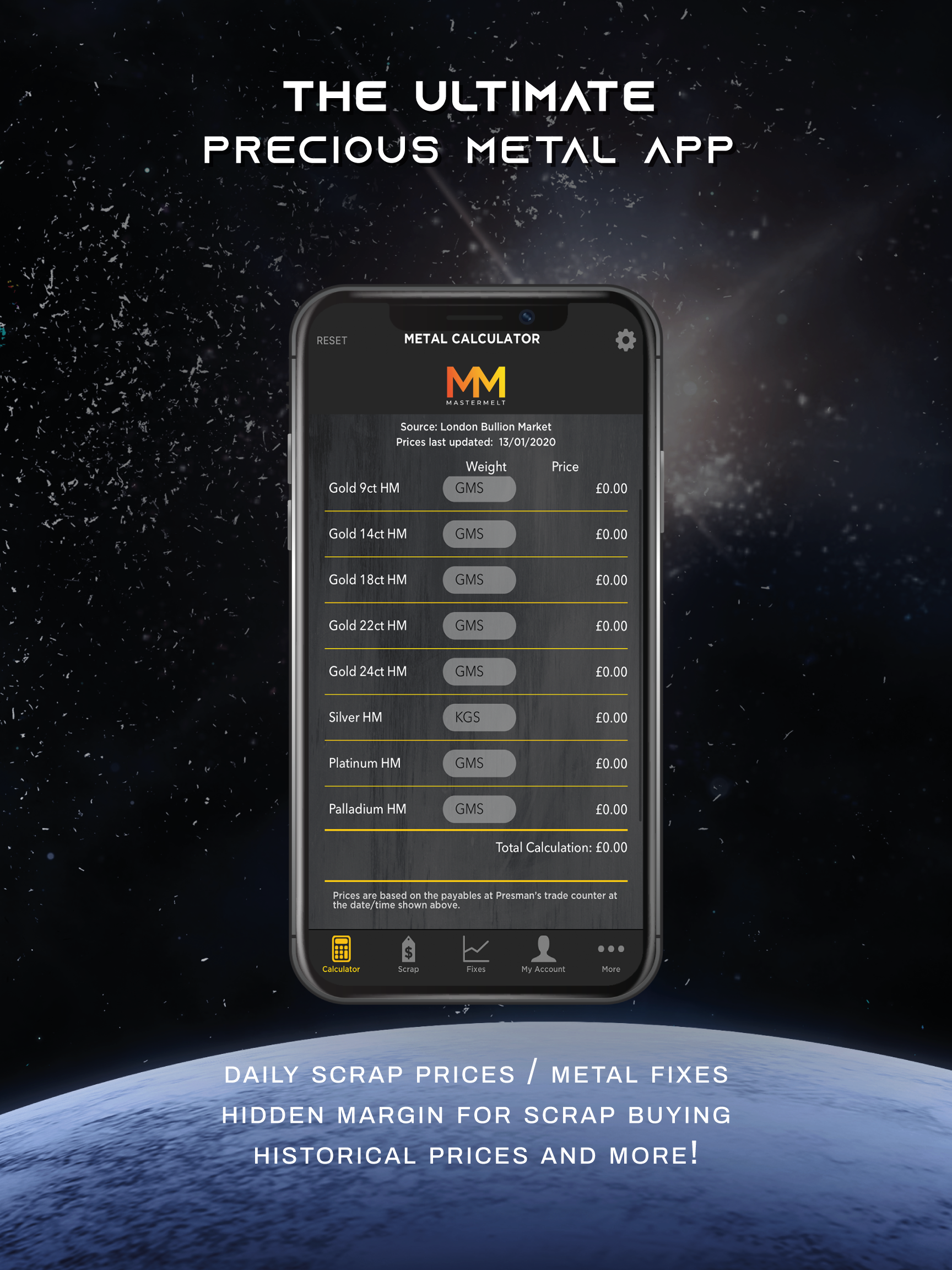 Mastermelt Scrap App
Download our exciting and interactive 'Scrap App' filled with practical and time-saving applications, designed for every gold buyer or follower of precious metal prices.
Metal Calculator: Value your precious metal scrap in seconds in gms/kgs 
Buying Margin: Set a secret buying margin to our metal calculator.
Scrap Prices: Trade prices for the most popular hallmarked metals and coins.
Fix Prices: The published London fixes for Gold, Silver, Platinum and Palladium.
Historic Prices: Selectable Dates, Averages and Graphs.
My Account: Current and historic job tracking and payment information.  Free-post envelopes and sweep or lemel bag ordering.
Download Apple
Download Android